Food for Thought Denver
Two members of the Arvada Sunrise Rotary Club, Bob Bell and John Thielen, founded Food For Thought – Denver. Through a similar program sponsored by the Arvada Sunrise Rotary Club in Arvada, Bob and John became aware of the tremendous need in the Denver Public Schools for an effort such as Food For Thought. A partnership with Metropolitan State University of Denver was formed when MSU Denver donated on-campus space and provided access to their student body volunteers. With support and initial funding from the Arvada Sunrise Rotary Club Foundation, the first Powersacks were delivered to two Denver Elementary schools in March 2012. Since that time, Food for Thought has delivered over 250 tons of food!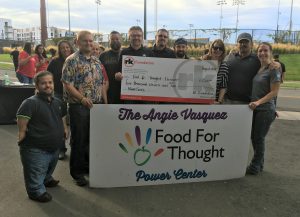 Visit foodforthoughtdenver.org for more information.
We encouraging our employees to volunteer for and donate to this charity!